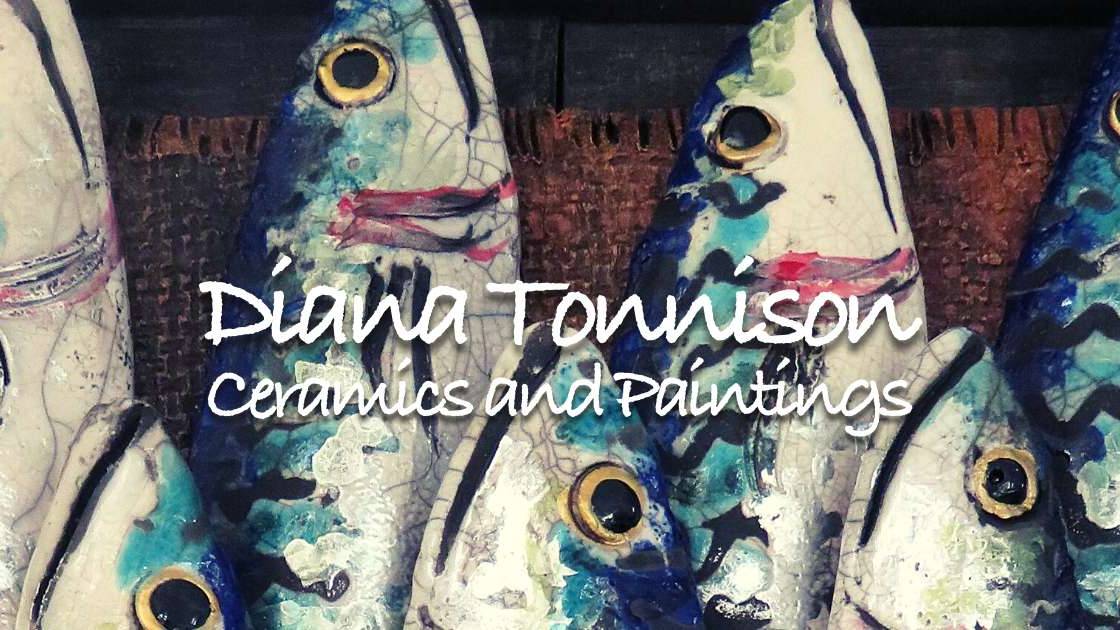 Welcome!
Inspired by my travels abroad , my fascination is with local markets, whether local produce, flea markets or art and craft markets. They tell you so much about the lifestyles and artistic traditions of the country and opens one's eyes to new colour combinations, patterns and textures.

My 'Still Life' sculptural wall art is inspired by simple kitchen displays of food waiting to be prepared- like oil paintings of the old masters or the colourful foodie magazines of today. 
Please email me diana@tonnison.co.uk if you would like to be included in my mailouts for information on my events, exhibitions and studio exhibitions. I confirm that I do not share any details or email addresses with any other parties.
 I am delighted to be participating at  Celebrating Ceramics Fair at the lovely Waterperry Gardens, near Wheatley, Oxford OX33 1LA. Friday 15th -  Sunday 17th July
I
can't
 wait to get back to exhibiting at an event in person! I hope you'll come and join me. This is a ticket only show, visit celebratingceramics.co.uk for limited availability on reduced price tickets (£5.00) use my exhibitor code EXHIB22
£7.00 tickets available till midnight 5th July.  £10.00 from 6th -15th 

And as for something new from me ?
I've been making new works for my 'Pantry
Collection
' which sold so well last Autumn, and also at this event I am delighted to be launching my new ceramic mosaic bistro tables!
I've
 been
developing
 my own technique for mosaic art made entirely using my own
glazed
 tiles (no bought mosaic pieces!) after firing I smash 'em up and redesign them for the table top! Colourful and unique one off designs for your summer cocktails in the garden!
Please see my webpages for 'The Pantry Collection' and my Mosaic Artworks page is coming soon (promise! I've just been busy making work for the show!)
I am still selling from my studio my popular 'Hand Embellished Wood Panel prints. Editions'

You are welcome to come and visit my studio  in Hanslope, Milton Keynes MK19 7PA. I have a lovely exhibition area and you can see my work in progress in my workshop. I'm always happy to discuss any particular requirements or a commission. Refreshments always on offer!
Please call or text/WhatsApp me on 07887561042 or email diana@tonnison.co.uk to say when you'd like to come and check I will be there. Anytime,  including weekends and evenings, are fine to visit.