Biography & Awards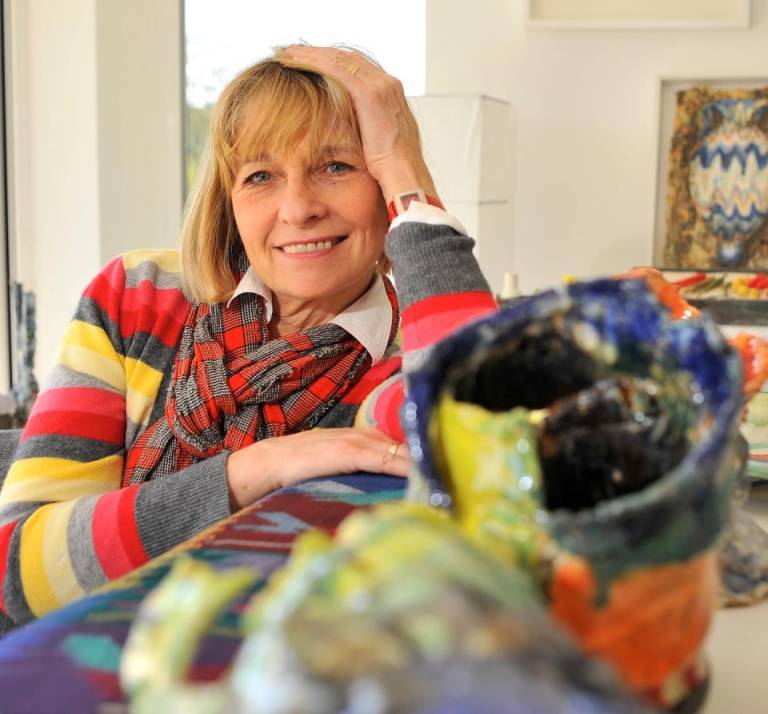 From age of 14 I decided I wanted to be fashion designer, and determined to go to St Martin's, which I did! I specialised in knitwear design and combined woven and knitted fabrics for my degree collection. After college I had great opportunity to work with Missoni in italy, followed by designer Bill Gibb, (the influential 70's fashion designer), London, and subsequently worked in Hong Kong and New York as a designer.

My wonderful education at St Martin's and then my career in fashion design, influences my work in ceramics today. The principles of art and design are the same, its only the media that is different.
After a fascination for ceramics since I was an art student, I launched my new ceramics business in 2007. I have gradually built up a sustainable market for my work and developed my own style and a new way to approach ceramic art.
I was delighted to supply Liberty's for last two years and really felt I was achieving things when I won the Craft&Design Selected Magazine award in 2016.
Winner 'Gold Award for Ceramics' Craft&Design Magazine April 2016, Read Judge's comments : Peter Moss, Fellow of Society of Designer Craftsmen.
Winner 'Best use of Colour', London Potters@Morley Gallery 2014
Winner 'Best Hand Built Piece', London Potters @Morley Gallery 2012
Winner 'The Fletcher Prize 2012' Oxfordshire Craft Guild Exhibition at Oxford Museum , Woodstock. My ceramic sculpture 'Salted fish from Barcelona market' is now part of Oxfordshire Museum's permanent Contemporary Craft Collection
Winner of Dacrorum & Chilterns Potters Guild, 2012
Elspeth Bray, Moncrieff-Bray Gallery writes:
'Diana Tonnison has exhibited her ceramic boxes with the Moncrieff-Bray Gallery for the past five years, each exhibition has been as been a sell out and her work has gone as far afield as Greece, France and the USA. For one client she has done an installation of eight fish boxes, the fish specially selected to suit the client whose wife had connections with the fishery industry. She has now moved into a new medium with her handmade and printed wood panels, these are made according to a unique process entirely developed by her. Diana's work is in high demand celebrated for its wonderful palette she effectively paints in ceramic, and her ability to convey the rich textures and colours of her fish and vegetable world.' April 2016